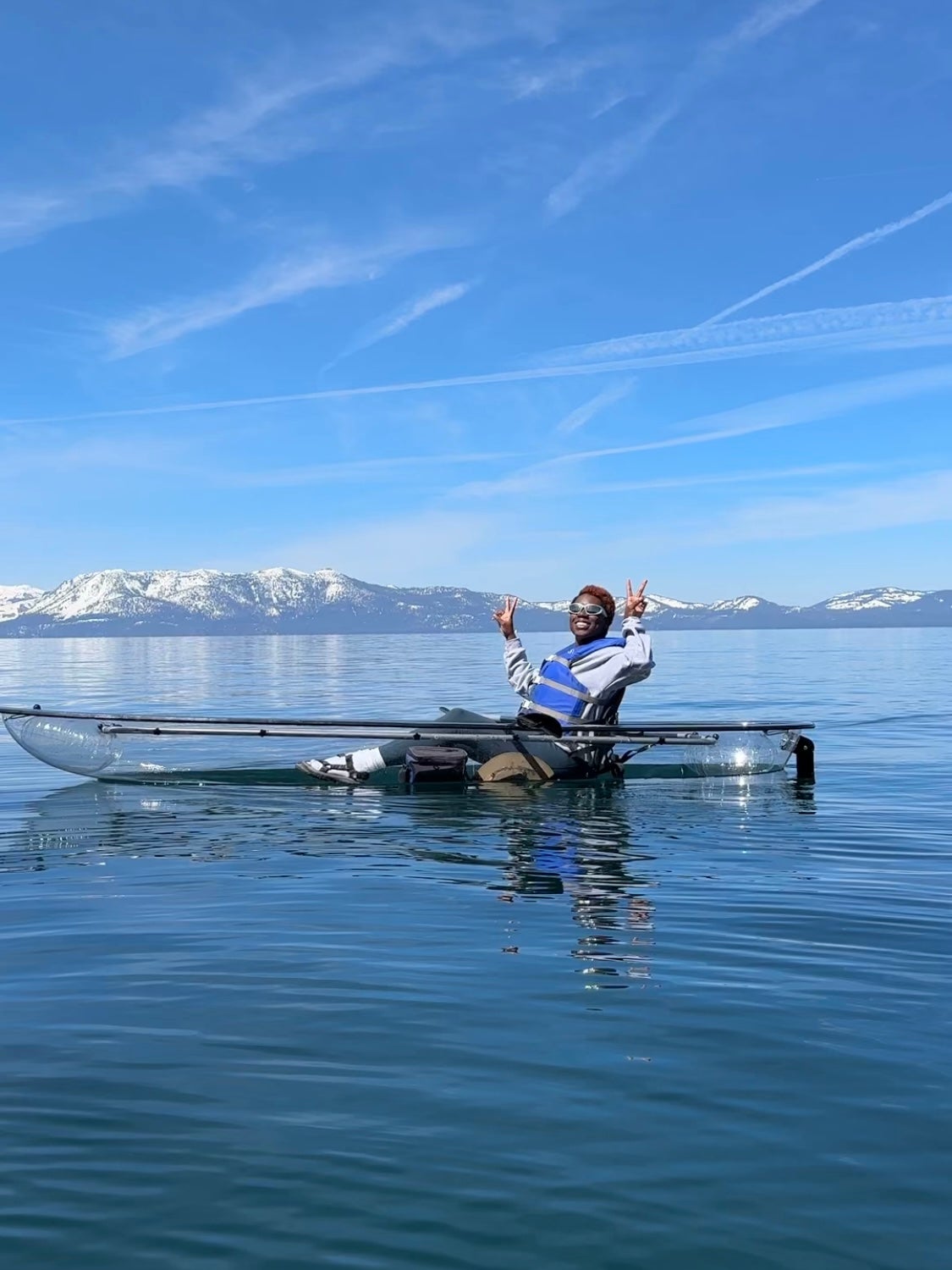 At the beginning of the year, I added a new bullet point to my bucket list: travel more. Aside from the international places already on my wishlist, I specifically want to visit every single American state. You may be thinking, "Girl what for?" But I've been reflecting a lot on my childhood, and one memory I keep coming back to is one my parents challenged me to, memorize as many states, capitals, and cities as I could when I was around 6. The little girl in me is still yearning to see as many places this country has to offer by 2025. 
To begin this journey, I started at Lake Tahoe (which is between California and Nevada), checking into Teva for two days of outdoor activities. I'm the type of girl who usually loves a good resort and being laid up by the pool, but I promised to challenge myself that I'd try new adventures. Teva made sure I was all set: hiking, kayaking, and a tour of the lake were all on the agenda. The drive to the Wylder Hotel's cabins was filled with beautiful scenery of the mountains, one side filled with snow and the other completely clear. As we ascended the mountains, it started to hail, the temperatures gradually dropped, and my cellular service disappeared. I was worried at first, but then I basked in the reality that I would be able to truly unplug.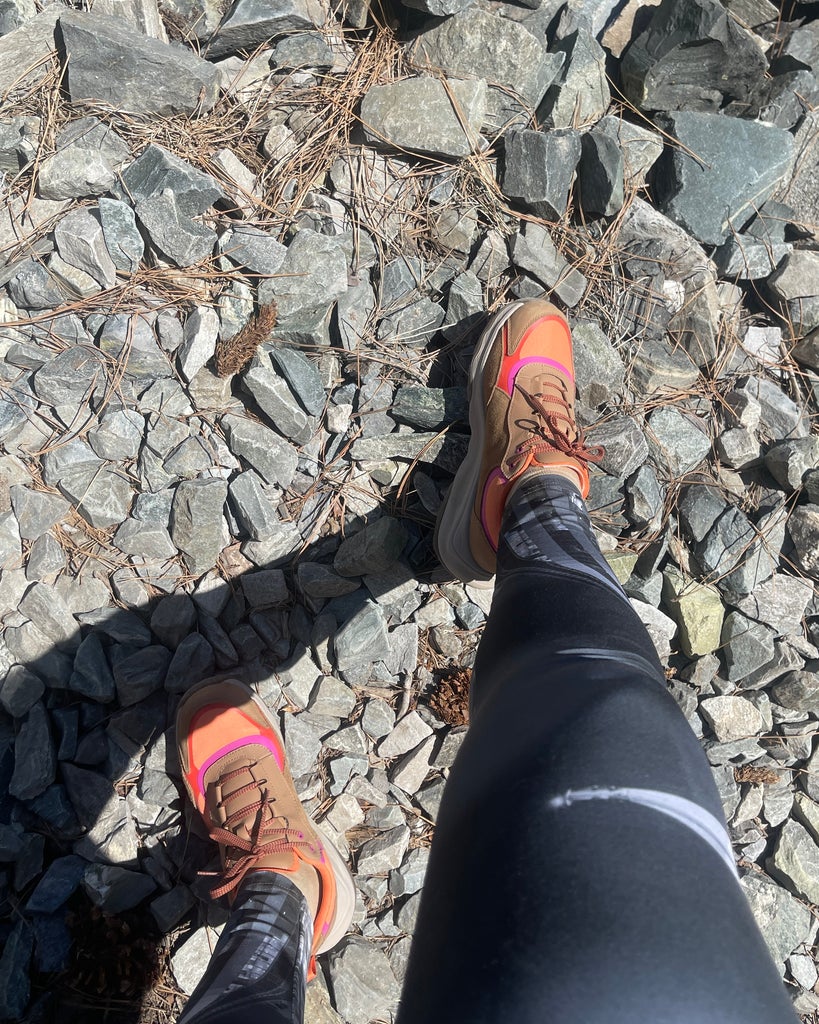 As I settled into my cabin, I was excited to find that Teva provided me with some footwear since I didn't really pack accordingly for the weather. Throughout the week I tested out the Geotrecca Low shoes and Hurricane XLT2 sandals. On the first day of activities, I slid on the Geotrecca low shoes for the hike up the Genoa Trail. The moment I put them on, I felt instant comfort, and I knew that I wouldn't have to worry about my feet hurting during the hike. We walked across several narrow paths while going up the mountain, which triggered my fear of heights. Luckily, we had Beyoncé's first Renaissance tour show to watch via TikTok to keep us distracted on our way up. Reaching our destination was really motivating and inspired me to do nature walks — or, as I like to call them, "hot girl walks" — more routinely. 
Later that evening, we enjoyed a wine-tasting boat cruise, where we learned many historical facts about Lake Tahoe. Did you know that the lake is about 1,600 feet deep and would cover the Empire State Building, which is 1,454 feet tall? Of course, I had to take obligatory photos of myself because the background was honestly breathtaking.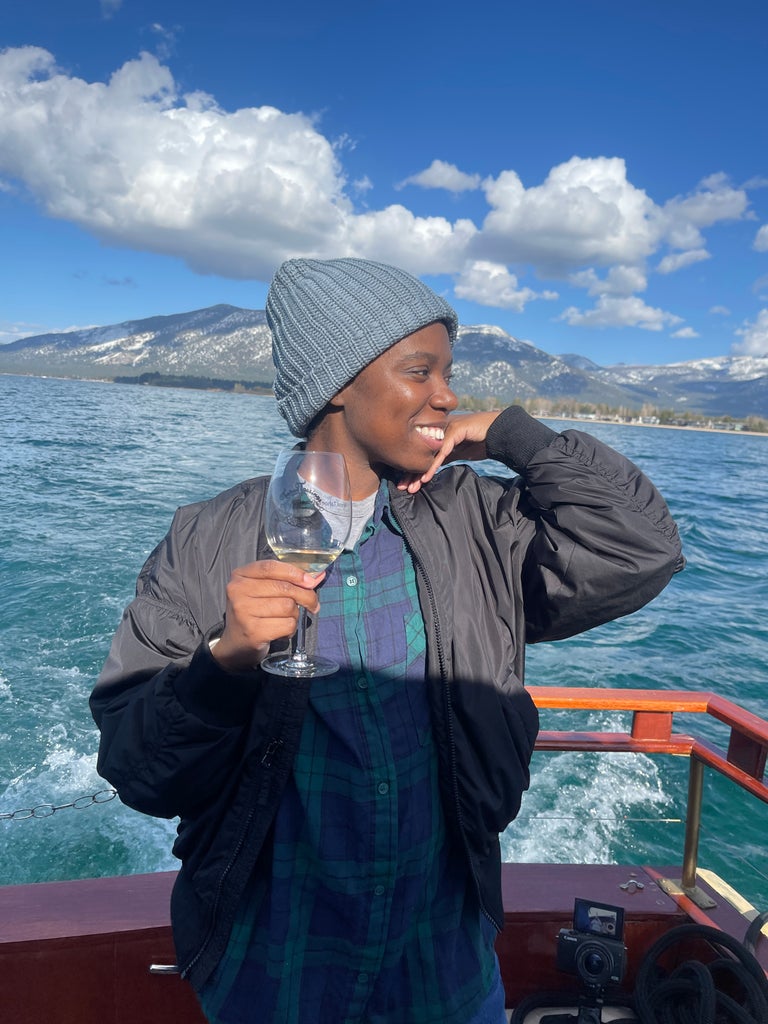 On day two, I wore my Hurricane XLT2 sandals (with socks), which instantly became a summer shoe staple in my closet because I have yet to stop wearing them. They're easy to put on, and the velcro adjustable straps are a huge win for when I'm on the go. They were perfect as we volunteered with Keep Tahoe Blue, where we learned about the importance of keeping the lake as clean as possible. We put on our gloves and spent around two hours picking up trash and plastic. Since we'd arrived about a week after a lot of snowfall, there were pieces of trash previously covered by the snow that we were able to pick up. Keep Tahoe Blue prides itself on combating pollution on the lake because it is an important source for the people who live around there. 
The last activity of the trip was a highlight for me: kayaking on the river in clear kayaks. Admittedly, I was extremely nervous because I'm not the strongest swimmer, and the lake is pretty huge. I talked so much mess about only going on the kayak for a photo opp and returning back to the main boat. However, once I was on it, I had the best time and didn't want to leave. My muscle memory of learning how to kayak in summer camp instantly kicked in, and I even was doing laps. I was really proud of myself for pushing through.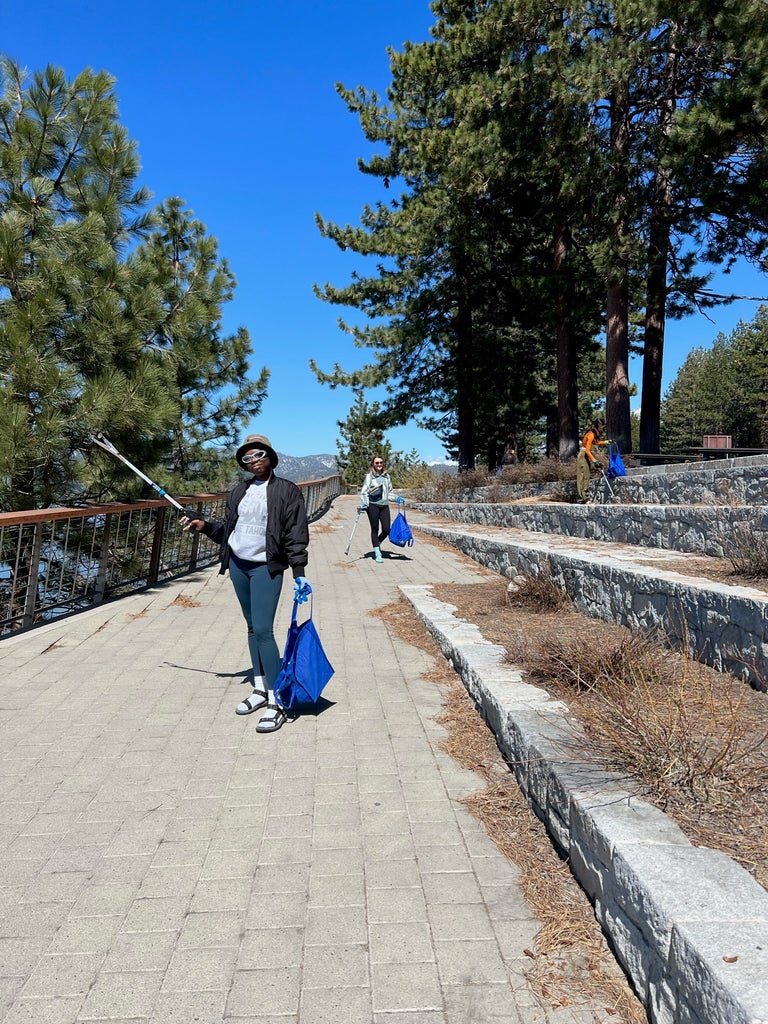 Overall, this trip was enriching in a way I wasn't expecting. It set the bar high as I set out for my journey of exploring many more states. I was able to step out of my comfort zone throughout the trip and create new relationships with those around me. I look forward to being more intentional when it comes to trying new things with each place I visit.
Like what you see? How about some more R29 goodness, right here?
Black & Unbothered in Mallorca, Spain
Why Black British Women Feel More Beautiful Abroad