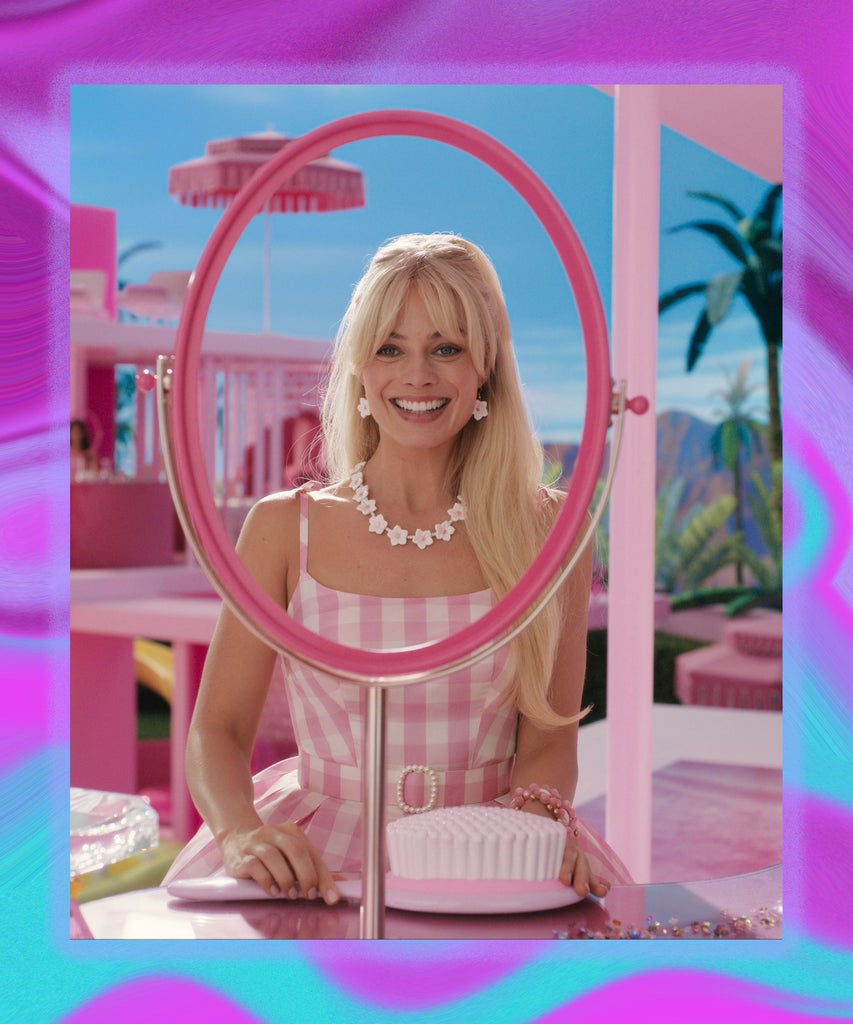 Margot Robbie as a Barbie can fly down the stairs and walk on water, as she appears to be going through a very relatable girlhood-to-womanhood identity crisis. A world of pink, pastels, and hard, shiny plastic packed with painstaking attention to detail. We're calling it: Greta Gerwig's Barbie movie is set to be the biggest film event of the year (sorry to all the Oppenheimer truthers out there).
Whether you're planning to doll yourself up for the July 21 release or are just curious about how to add some Barbie energy to your wardrobe, we've combed through the trailers, promo pictures, and BTS clips to put together the best Barbie movie outfits. Think bigger than Barbiecore pink — we've covered different iterations of Barbie in all of her whimsical dresses, jumpsuits, swimwear, activewear, and more. Read on to find the best Barbie feather heels, gingham pieces, hair accessories (think: bows, berets, and cowboy hats), and even on-theme roller skates to cart up ASAP.
How to dress like Margot Robbie as Barbie in her pink, fluffy heels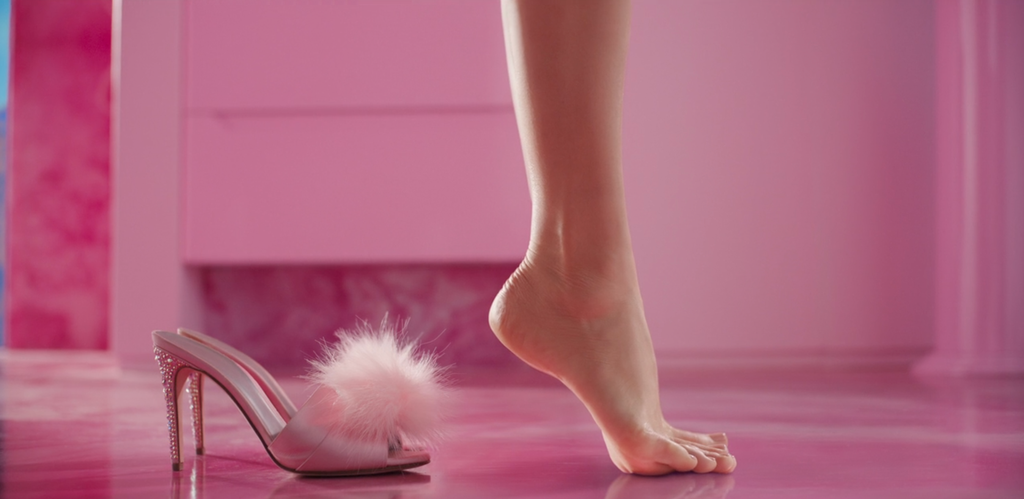 When the first Barbie teaser trailer dropped, it set the internet alight. One scene, in particular, rocked algorithms the world over: Barbie stepping out of a pair of pink, fluffy heels, her feet perfectly pointed as a real Barbie doll's would be. To quote director Bong Joon-ho, "To me, that's cinema."
Following the release of the extended trailer, we now know that Barbie's feet — and her choice of footwear — play a significant role in her character development, so nabbing a pair of Barbie-esque shoes is the perfect (and easiest!) starting point for dressing like the character. Whether you opt for a platform heel or kitten heel, be sure to pick the pinkest pair you can find (bonus points for pompoms and other embellishments like bows and butterflies).
How to dress like Margot Robbie as No. 1 Ponytail Barbie
Our very first glimpse of Robbie as Barbie was nothing short of iconic. Dressed as No. 1 Ponytail Barbie — the original Barbie doll from 1959 — she stands proud and godlike in homage to 2001: A Space Odyssey. Nail the look with a black-and-white striped swimsuit, white cat-eye sunglasses, red lips, gold hoop earrings, and black peep-toe pumps.
How to dress like Margot Robbie as Pink Gingham Barbie
We see Margot Robbie's Barbie sporting pink gingham several times in the film trailer, first in a '50s-style flared sundress that she wears while getting ready, accessorized with a matching hair bow and statement daisy earrings and necklace. The second time, she's on the beach in a playsuit with a heart-shaped cutout back, pink gingham sun hat, and plastic shell jewelry. So far, this is the print we're most closely associating with Gerwig's Barbie universe (Pink Gingham Barbie has also been immortalized in doll form by Mattel and championed by Robbie on the press tour).
How to dress like Margot Robbie as Disco Jumpsuit Barbie
What's a big, blowout party without glitzy disco outfits, a group of friends, a choreographed dance…and intrusive thoughts? That's how it rolls in Barbie Land, anyway, as Robbie's Barbie kills the mood with some existential questions about death.
We'll leave the philosophizing to Barbie but for your own disco queen look, you want to be thinking ultra glam and gold. In the film, Robbie wears a jumpsuit that seems to be a nod to the 1981 Golden Dream Barbie. If you really want to recreate this look, Barbie's frothy headpiece could be a fun DIY project with some wire, tulle, gold ribbon, and a glue gun.
How to dress like Margot Robbie as Sailor Barbie
Barbie loves nothing more than a theme, as proven by her beachside sailor outfit (a look also adopted by her fellow Barbies). Throughout Barbie's history, she's had several nautical looks, mainly in the '60s. She's worn sailor stripes, retro bathing suits and bloomers, anchor motifs, and pleated skirts with suspenders. So this is a sign to go barefoot on the beach and rock a retro coastal look this summer.
How to dress like Margot Robbie as Cowgirl Barbie
Yeehaw! Barbie has gone country several times in the past (namely 1980's Western Superstar Barbie and 1993's Western Stampin' Barbie), but Gerwig's hot-pink Cowgirl Barbie feels fresh and contemporary; it's an outfit we could easily imagine wearing to a Harry Styles concert. If you're on the hunt for a similarly colorful Western look, keep an eye out for separates as well as bold jumpsuits to achieve an ultra-glam look.
How to dress like Margot Robbie as Rollerskating Barbie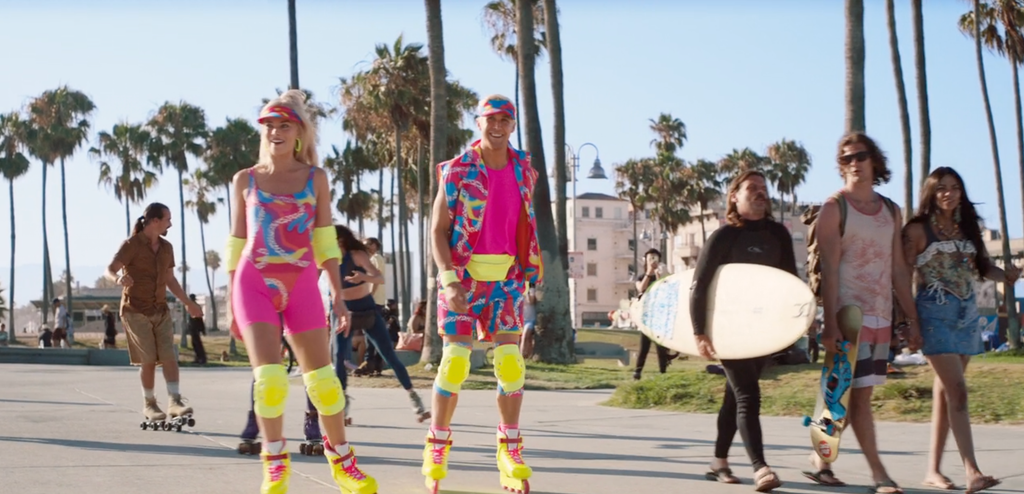 Barbie and Ken have been rollerskating since 1980, but Gerwig's film iterations are clearly taking fashion inspiration from 1991's Rollerblade Barbie's cycle shorts and 1994's Hot Skatin' Barbie's abstract prints and neon wheels. Though one of the most costume-y looks of the bunch, it's one of the easiest to recreate, thanks to skating brand Impala's collaboration with the movie and dead-on Etsy dupes.
How to dress like Margot Robbie as Pink Beret Barbie
When Robbie's Barbie decides to leave Barbie Land and visit "the real world" to discover "the truth about the universe," she dons the universal symbol of poets and philosophers: a beret. Naturally, hers is pink. You can also shop Peter Pan collar dresses and dainty pink bows to achieve her road trip look.
At Refinery29, we're here to help you navigate this overwhelming world of stuff. All of our market picks are independently selected and curated by the editorial team. All product details reflect the price and availability at the time of publication. If you buy or click on something we link to on our site, Refinery29 may earn commission.
Like what you see? How about some more R29 goodness, right here?
Code Pink: Béis Is Launching A Barbie Collab
The Best Mermaid Nail Polishes & Charms On Amazon
Vacation-Ready Looks Inspired By The White Lotus