Should the call come, Colin Kaepernick is ready. 
Absent from NFL rosters for more than three years, the 32-year-old league veteran has been waiting, patiently waiting, for any team willing to take a chance on a dual-threat quarterback with quick feet, a strong arm and the emotional fortitude of a leader. 
"My desire to play football is still there," he told USA TODAY Sports this past February, some seven years after he led the San Francisco 49ers to a Super Bowl appearance. "I still train five days a week. I'm ready to go, I'm ready for a phone call, tryout, workout at any point in time. I'm still waiting on the owners and their partners to stop running from this situation. So I hope I get a call this offseason. I'll be looking forward to it.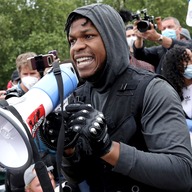 He'll likely skip the "I told you so."  
Four years before millions of protestors took to the streets of New York, Los Angeles, Minneapolis, Sydney and Seoul, loudly demanding racial justice and systematic changes to how police forces are run, the talented athlete from Northern California was leading the charge with a silent, peaceful gesture. 
He knelt during the National Anthem. 
When considered against the searing images of Minneapolis police officer Derek Chauvin kneeling on unarmed George Floyd's neck as he repeatedly gasped, "I can't breathe," and the protests—both peaceful and destructive—that have followed, it's almost hard to imagine something so small could incite such outrage.
And yet, it did. In the words of Kaepernick's now infamous Nike campaign, he chose to believe in something, namely, that the systemic oppression of black people was a cause worth fighting against,