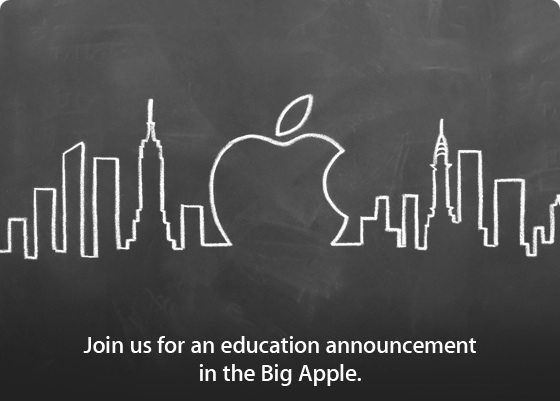 Apple have released a press statement and distributed media invitations for an "education announcement" to take place at the Guggenheim Museum in New York City on Thursday, January 19th.
Disrupting the flow of CES (Consumer Electronics Show in Las Vegas) for a second year in a row, Apple has announced their first dedicated education event since the introduction of the eMac in 2002. Quite fittingly, Apple have chosen the Guggenheim Museum as the backdrop for their announcement, a renowned home of educational enrichment and avant-garde impressionist art.
The possibility of an imminent Apple media event surfaced last week at All Things Digital, who claimed a source from inside Apple had suggested an event would take place in the near future, focusing on digital textbooks for education.
As noted in Walter Isaacson's recently released biography of Steve Jobs, Jobs was hoping soon to steer Apple in to the school textbook industry. Following their success with iBooks, coupled with their marketing push towards education with the iPad, launching a textbook product seems like an unsurprising move.
As of December 2011, 340 million books have been downloaded from the iBookStore, which now includes publications from Newsstand, a central place on the iPhone/iPad home screen where magazines/newspapers are viewable. We can only assume a similar layout will be available for educational textbooks, similar to the existing 'iTunes U' feature, which collates educational video + audio podcasts available for download.
Update: The New York Times have confirmed that the focal point of the event will be digital textbooks, and that no new hardware will be released.
The event will showcase a new push by Apple into the digital textbook business, but will not feature any new devices, according to a person briefed on the event who did not want to be identified talking about it before it occurs.